Selamat tahun baru 2007.
...He who lives by the sword, dies by the sword ....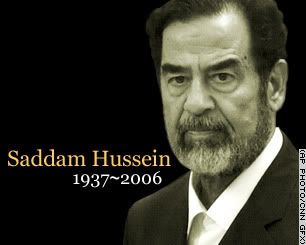 Apakah dengan ini, Amerika beranggapan perlawanan rakyat Irak segera berakhir?
Ini mirip sekali dengan kisah pejuang pelawanan Libya,
Omar Mukhtar
(1862 - September 16, 1931), pada zaman invasi Italia ke Libya (1911-1947) yang mati ditiang gantungan penjajah Italia di periode tahun 1930-an dulu. Kematiannya malah menjadi 'amunisi' yang semakin mengorbankan perlawanan rakyat Libya melawan penjajah Italia sehingga akhirnya terusir dari sana.
Mungkin kondisi yang ada saat ini berbeda dengan yang terjadi di Libya puluhan tahun silam. Namun keadaan ini masih mengusung hal yang sama, dan akan terus meninggalkan bara dendam , baik Sunni maupun Syi'ah, rakyat irak yang menjadi korban maupun Amerika itu sendiri.
Selamat beristirahat.