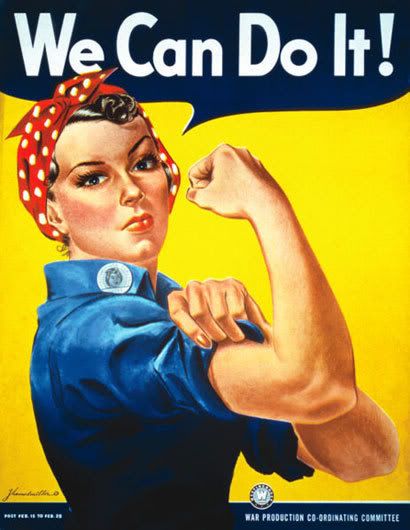 J. Howard Miller's famous poster, entitled

We Can Do It!

, is iconically associated with Rosie the Riveter, a cultural icon of the United States.
Rosie merepresentasikan atau mewakili jutaan kaum wanita di Amerika yang bekerja pada industri untuk mensuplai materi dan peralatan perang yang digunakan tentara (kaum pria) Amerika selama Perang Dunia II.
Gambar ini merupakan salah satu ikon, poster yang sangat terkenal di dunia, hingga kini. Ini juga merupakan simbolisasi gerakan
kaum feminis
, economic power di tangan kaum wanita Amerika, juga berbagai macam definisi tentang kekuatan dari kaum yang dipinggirkan di Amerika.
Sepertinya ada sesuatu selain gambar ini keren. Tetapi dari kekuatan sudut visual gambar ini setara dengan poster yang ada
di bawah ini