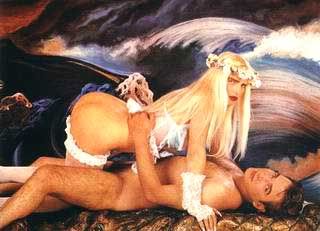 "Made in Heaven"
series of paintings, photos and sculptures
, 1990-1991.
Jika Jeff Koons berani berkarya seperti ini, pastilah ada alasan kuat baginya untuk mencoba sikap sensasional sekaligus mematahkan tabu dan dilema moral dalam penyajian tema seks sebagai visual seni. Koons memang seringkali kontroversial dan dianggap sebagai
genuine leader
dalam
controversial
tradisi semenjak
DADA
, wuihhh ....
Saya yakin, Pornografi dan Seni disini adalah kabut tipis yang menyertai istilah deskripsi karena perupaan yang sangat berani (dari kacamata moral masyarakat) dan sangat standar (dari kacamata seni kontemporer). Koons selalu punya alasan kuat untuk menyertakan karyanya dalam Gallery, selain memang ini menjadi ujian kepekaan artistik seseorang, dengan makna yang sangat luas dibalik perupaannya yang menggunakan elemen seksualitas.
'Made In Heaven'
ditampilkan di Indonesia?
'Pinkswing Park'
jadi tak terasa.
Made in Heaven Image Gallery
dan
Jeff Koons - A Collection of Images
Seni memang mewadahi dirinya dalam wujud otonom. Saya yakin, Koons pasti akan dibui jika secara tak sengaja menaruh keryanya di luar area galeri, dalam jarak dekat sekalipun.