People called them as a one of God of Trash Metal.
20 tahun lebih mereka masih eksis memainkan musik TRASH METAL, dan kemarin, 24 September 2005, mereka sukses menggelar konser di Ancol, Jakarta. Terima kasih akhirnya, kepada dua rekan sejawat (
Nikk
dan
Moni Babi Kecap
) yang biar suka kumat dan ogah-ogahan, masih sempat menyemangati dan mengajak saya untuk melupakan kesibukan biadab di kantor dan kembali bernostalgia, menyelami impian masa kecil, sibuk ketika baru mulai mengenakan celana sekolah pendek biru sambil mengumpulkan poster, mengguntingi gambar-gambar dari majalah HAI (edisi Rock), sibuk menerima pesanan menggambar logo grup musik dan berburu kaset-kaset metal yang masih seharga 4500 rupiah sampai 5000, dan dilabeli stiker bulat,
"Rock-Trash Metal"
tersebut dan seringkali ditaruh di areal pojokkan etalase kaca toko kaset dan cd, sampai berdebu.
Teng! pukul 7.45 malam, konser inti belum dimulai.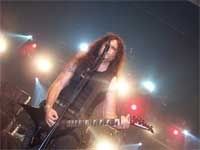 Kami bertiga masih tertahan di pintu masuk. Aparat dan panitia cenderung
over-acting
, bertampang sangar –sangar, dan tegas untuk tidak membolehkan kamera digital dan minuman mineral dibawa masuk, walau saya tahu untuk konser musik metal seperti ini, toh sebagian panitia dan partisan penggembira rekanan panitia pasti bermabuk-mabukan di dekat stage. Kami sabar menunggu, kondisi panggung gelap dan penonton sudah menyemut. Namun band pembuka terakhir sudah selesai bermain,
Siksa Kubur
. Padahal saya ingin menyaksikan kembali band ini bermain, karena mereka sangat rapih dan teknis. Saya sempat membeli kaos tour:
Kreator - Trashing Indonesia
, dan kecewa ketika dibagian belakang ada gambar peta Indonesia terbakar, dasar
gudang bawah tanah
(sang pembuat kaos) Tapi ya sudahlah, anggap saja kenang-kenangan.
Jam 8 malam. Teng! (tumben tepat waktu)
Tiba-tiba saja, suara distorsi raungan khas metal terdengar kencang dan lampu strobo menyala. Mereka tanpa basa-basi langsung menggebrak. Singel pertama di bawakan,
crowd
jakarta langsung berlarian brutal,
slam dancing, body surfing, moshing
dan
head-banging
, di sepanjang lagu. Dari kegelapan dan temaram lampu panggung, terlihat siluet mereka, gondrong-gondrong dan mengibas-ngibaskan rambutnya,
Enemy Of God
(2005) sukses digelontorkan di awal. Dan langsung menggeber dengan beberapa lagu andalan klasik, diambil dari 11 album penuh mereka,
Endless Pain
(1983) sampai
Violent Revolution
(2001) dan sampai album terakhir,
Enemy of God
(2005) ini.
Sesudah lagu kedua, lampu agak terang, terlihat 2 personil asli Kreator dan yang paling lama bertahan,
Mille Petrozza (vokalis, gitar)
sang pendiri group yang terlihat sudah tua, dan coba-coba berbasa-basi, say 'hi jakarta', dengan
face
bapak-bapak, rambut panjang, kerutan di wajahnya dan sang drummer,
Jürgen "Ventor" Reil
, masih terlihat bermain sangat gila, dan sama saja sudah tak bisa menghindari kebotakan, walau gondrong. Soal permainan individu, sekali lagi mereka masih terdepan. Saat rekan seangkatannya, Metallica sempat terlena dengan permainan metal
soft
ala amerika dan Megadeth yang sempat bermain metal balada, mereka tetap konsisten dengan warna musik yang membesarkan mereka, dan telah sukses mentahbiskan diri mereka sebagai jawaban Jerman atau Eropa atas serbuan musik
Trash
dan
Heavy Metal
Amerika, di periode 80–90 an awal.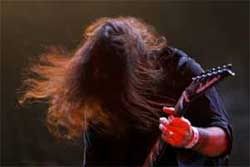 Didukung oleh gitaris kedua dan pemain bas yang dari awal konser memperagakan
head-banging
(gerakan memutar-mutarkan kepala, mengikuti beat musik metal, lebih efektif jika sang musisi berambut panjang) klasik,
Christian "SPEESY" Giesler
dan
Sami Yli-Sirniö
. Mereka secara nonstop membawakan lagu andalannya dan beberapa saat,
screen
raksasa di belakang mereka memperlihatkan gambar cover album-album klasik mereka,
Endless Pain
(1983),
Extreme Agression
(1985),
Terrible Certainty
(1987),
Coma of Souls
(1990), sampai
Violent Revolution
(2001). Cuma beberapa saat, ternyata banyak visual yang rasanya berasal dari visual di
winamp
( hehehehe). Beberapa album klasiknya yang kurang begitu terkenal disini, tidak dibawakan seperti
Renewal
(1993),
Endorama
(1999). Termasuk ketika lagu
"Terror Zone", "Impossible Brutallity", "Love Us or Hate Us"
dikumandangkan. Kejayaan trash metal dengan intensitas gitar yang rapat, melodi saling bersahut-sahutan kembali terpatri dibenak saya. Woah... mereka rupanya masih konsisten sampai saat ini, rasanya perpaduan musik ini bakal bangkit. Soal waktu saja, saat ini warna permainan metal sudah kembali mengungkit dengan gaya seperti ini.
Crowd
Jakarta (eh, banyak anak-anak bandung juga sih) makin menggila ketika
"People of The Lie"
dibawakan.
Body surf
, penonton sudah menggila. Disusul oleh Hits terkenalnya:
"Extreme Agression".
Termasuk
"Pleasure To Kill"
. Semakin besarnya putaran arus penonton dan penonton yang semakin berjubel ditengah. Sementara di saat yang sama, kanan kiri panggung terlihat sejumlah penonton yang tadinya juga liar mulai adem ayem, dan sekedar mengacungkan tangan di tiap lagunya. Terlihat mengantuk. Metal yang konstan memang bikin ngantuk, kecuali dia sang penggemar sejatinya. Sempat disindir Petrozza, akhirnya crowd mulai menggeliat lagi. Dan beberapa penonton tercium bau alkohol, bah ! ini mah
pletok
(vodka campur krating daeng + Nutrisari) hahaha, standar tongkrongan anak metal + kuliahan. Toh selama itu tidak mengganggu sejauh ini, ya dibiarkan saja.
Mereka tidak capek, staminanya melebihi band-band usia muda saat ini.

Saya melongok jam dan ternyata sudah jam 9 lebih.
Sedari tadi saya terpisah dengan beberapa rekan dan teman-teman lama yang bertemu di konser ini. Dan asik bermoshing di bagian agak belakang. Saya lihat beberapa orang yang mengenakan kostum non-metal malah lebih hafal bait demi bait yang diteriakan Petrozza, dibandingkan penonton yang lebih muda dan mengenakan kostum kaos metal hitam hitam bertuliskan
Napalm Death, Venom, Pestilence, Black Flag, Incantation, Nasum, Entombed
, sampai
Cannibal Corpse
dan
Annihilator
. Mungkin lebih mirip obral logo dan pameran typografi dari neraka.
Penghujung acara, Kemudian lampu gelap, taktik kuno. Penonton berteriak, karena tahu, mereka belum membawakan lagu lain yang cukup terkenal sampai saat ini di kalangan pecinta metal ;
Flag of Hate, Betrayer, Tormentor
dan
Coma of Souls.
Sekitar jam 10
, mereka kembali dan membawakan lagu-lagu pamungkas tersebut. Sampai ditutup benar-benar puncaknya dengan musik yang luar biasa gemuruh dan menyisakan beberapa orang yang terharu dan puas.
" Coma of Souls "
tak dibawakan. Mungkin mereka sudah lupa, ha !.
Pukul 11 kurang 20 menitan
, (kalau tidak salah), konser selesai. lampu menyala, penonton mulai membubarkan diri, dan beberapa wajah akrab yang selama ini nangkring di gerai-gerai komersil musik keras dan punggawa komunitas musik underground tampak. Rasanya lingkaran musik yang segmentatif ini tidak jauh berkembang banyak. Tapi memang itulah keadaannya. Dengan jumlah penonton yang tidak bisa dibilang banyak, mungkin ada ribuan, tidak sebanyak waktu Napalm Death tampil di tempat yang sama, mereka telah menemukan sejumlah penggemar setianya, yang mungkin sudah terhadi kesenjangan generasi. Dimana MTV dan musik rock seperti garage rock dan retro 80 an, kembali mewabah, ternyata masih ada audiens yang konsisten terhadap jenis musik lama ini.
Kami beringsut pulang, setelah selesai berhaha hihi dengan rekanan kampus dulu.
Terasa capek tapi puas, dan terasa badan sakit-sakit, bekas hantaman sesama penonton.Kuping masih terasa berdenging. Tadi pagi terasa, setelah malam sampai Bandung. Gile bener.
cek disini:
http://www.kreator-terrorzone.de/